Natalie Grant Shares Story Of Unexpected Miracles | @NatalieGrant
Award-winning singer Natalie Grant shares her story of hope, waiting and restoration.
"Less Than One Percent Chance of Conceiving …"
"Here I was about to go do this dreamy event, and my phone rang. It was the doctor's office saying, 'Hey, we have all of your results back, and you guys have less than a one percent chance of conceiving a child,'" Natalie said.

"I just remember my head started to spin, and I thought, There's no way. This is not going to be our story."
A few hours later, Natalie took the stage with Wynona Judd, singing a song they had recorded together about how God brings everything together for good, just as her personal dream of bearing children began to crumble.
"A song I thought I would always sing to encourage somebody else was actually a lifeline for me that night," Natalie said.
Natalie and her husband—award-winning songwriter and producer Bernie Herms—who she will celebrate 16 years of marriage with in August, had waited more than five years before entertaining the idea of starting a family since they both had demanding careers that required extensive travel.
The two originally met after Natalie moved to Nashville in search of a record deal. The Seattle native was showcasing her music for labels and needed a piano player. Someone recommended Bernie, and Natalie hired him. (He still plays piano for her today.)
"It took him a lot longer to figure out that he loved me; but after the day I met him, I called my parents and said, 'I met this guy, and if he asked me to marry him tomorrow, I would say, yes,'" Natalie candidly shares, laughing. The two became friends, eventually started dating, and the rest is history.
Pursing Fertility Treatment
Five years into marriage, the thought of not having children was a test of the couple's faith. After prayerful consideration, they decided to pursue fertility treatments.
Seventy-six shots later, Natalie turned up pregnant. However, when the elated mother-to-be went to the doctor for her first ultrasound, she was given another unexpected surprise—two heartbeats.
Bella and Gracie were the long-awaited miracles for which they had fervently prayed. With a burgeoning music career, a loving husband and two happy, healthy twin girls, Natalie had everything she could ever ask for. She soon discovered a manageable rhythm between her family and career, and by the time the twins were three, she was satisfied and content with a balancing act she could comfortably navigate.
That's when the bottom fell out.
An Unexpected Miracle and Unbelievable Guilt
"Fast forward three years [from when the twins were born], and no medical treatments, no drugs, no shots, no nothing and I turned out pregnant with Sadie; and yeah, it was a miracle, but also the miracle I never asked for," Natalie confesses.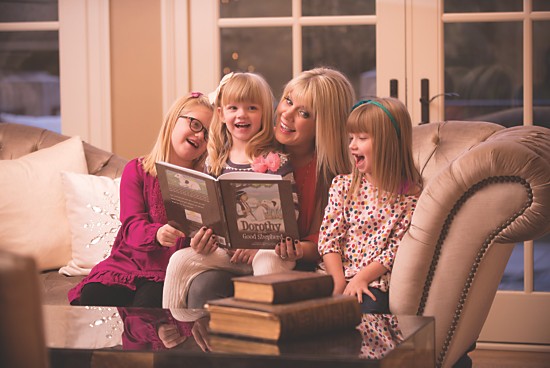 She could balance her ministry, her touring schedule, and her calling as a wife and mother of two … but how could she possibly keep all of the plates spinning with a third child added to the mix?
"I think the guilt began to set in right from the beginning, because I didn't want to be pregnant," Natalie said. "I was very happy with just my two children, and I began to feel such unbelievable guilt that I would even have these feelings … like, wait, I didn't ask for this one. This wasn't supposed to happen."

"That's when those lies and whispers began: What kind of mother are you? You are a terrible mother. You're not worthy of this. Obviously, God made a mistake when He allowed you to have this miracle. Things that in our right mind we know are not true—like God doesn't make mistakes—but when your emotions get the best of you, you begin to believe those lies," she continues.
Wrestling with Depression Behind Closed Doors
At the height of her career, Natalie sank into a deep depression. From the outside, she looked like she had a perfect, enviable life; but on the inside, she had never felt more alone—a challenge made even more complicated by the fact that her profession requires her to be on a public platform. There was significant pressure for Natalie to constantly be "on" and available to others and little time for self-pity.
"Here I am getting onstage, and [these women] already think my life is glamorous because I can dress up in cute clothes and hold a microphone and travel around the world—they have no idea.

Now I'm going to stand up and say, 'I've got this miracle in my belly, but I didn't really want to be pregnant.' So then I thought, I can never talk about it; they're going to hate me," she says. "It was intense pressure, mostly self-inflicted—it usually is. We're our own worst enemies, always."
Once she gave birth to Sadie, she expected her feelings would dramatically change. However, the darkness only closed in tighter.
"I felt like the lights had just been turned out in my life, and I really didn't know how I was going to find my way back," she said. "It was a really scary time."
The guilt was overwhelming, especially considering other women looked to her as a role model and spiritual mentor.
"I was still getting up and saying all the right things but not buying a single word of what I was trying to sell. I had all the right Scriptures to say to help other people put their own lives back together again, but I couldn't put my life together. I was a total fraud," she says. "I would get off stage and retreat into my own little pit."
Beginning the Journey of Restoration
"I struggled a lot longer than I needed to because I was so private about it," she admits. "The beginning of my healing really started when I actually found the courage to give voice to my struggle."
Through discussing her depression with her husband, her family and her doctor, she was able to begin the journey of restoration.
"So often we struggle privately because, especially as Christians, we think, What kind of Christian am I if I'm struggling with depression over my children? I know I did," she shares.
In addition to acknowledging her depression out loud, Natalie also says leaning into Scripture pulled her out of her abyss.
"I ran from the Word of God. What I knew would be my lifeline is the very thing I absolutely avoided," she said. "I avoided the Word of God like the plague, because I knew there would be a painful period. Once I got back into the Word, it was the greatest pain, but through that pain came the greatest healing."

The Hard Work of Healing

Natalie admits that it's tempting to stay in the darkness because the work of clawing our way to the light seems difficult.

"When we find ourselves in a pit, sometimes it's just easier to stay there than it is to actually do the work of getting out. We find fulfillment in our self-pity. It sounds so backwards, but I only know it because I experienced it."

"We don't have to work for our salvation, but there is work involved in making ourselves whole," she said. "I think we fall for the idea that God is going to rescue us and all the work is on Him; but He's actually already done everything He needs to do to redeem our lives. We have to believe it. We have to take hold of the hand of mercy that He's extending."

God's Greatest Gift Outside Salvation

Today, Natalie is grateful for her self-proclaimed "dark period," because it's shaped her character and allowed her to experience the depths of God's faithfulness in entirely new ways.

Bella and Gracie are now 8, and Sadie is 4; and all three miracles bring her joy she never knew was possible. Moreover, her relationship with Bernie is better than she ever imagined, adding that he was her biggest supporter through her depression.

"I didn't know I could love him more, but I do. My love for him grew so intensely because he waited for me to find my way instead of trying to push me," she said.

"God's greatest gift to me outside of salvation was my husband; because I am a complicated disaster, and my husband is a patient, really wonderful, loving man who has walked with me through a lot. I constantly learn from him how to be a better person."

Natalie's life hasn't turned out the way she planned. She never dreamed she would find a husband like Bernie. She never counted on struggling with infertility, much less becoming a mother to three little girls. She never imagined she'd be not only a successful recording artist, but also an actress, activist and an award-winner.

Natalie never thought she'd experience postpartum depression. However, she's come to expect the unexpected, because sometimes the things we don't plan are the miracles that bring us the most joy.

Where Natalie is Now

As Natalie travels the country, she's now openly sharing her story with other women about her struggle with depression and how it literally refined every area of her life.

"When you belong to Jesus, it doesn't mean that this stuff is going to turn out the way you planned or even the way you pray for, but you come out stronger on the other side," she said.

"I'm a stronger mother. I'm a stronger wife. I'm a much stronger believer; and I feel like I'm a stronger woman because of what I walked through."

For more info, visit Natalie's official artist page. Article courtesy of HomeLife magazine.

Watch the Music Video for Natalie's Song "In the End"

Written by Lindsay Williams, a freelance writer and editor based in Nashville. She contributes to a variety of print and online media outlets, including HomeLife, ParentLife, Homecomingmagazine,Nashville Lifestyles, UPTV.com and Crosswalk.com, among others. She blogs regularly about Christian music at The Sound Opinion.

Culled from www.lifeway.com